CONSTRUCTION IS GOING DIGITAL.

WE ALREADY ARE.
Since 2007, Homann Architects has become one of the most digital architecture firms in Germany: All employees are equipped with mobile devices and can access all documents from anywhere in the world. We have been working with a cloud solution for a long time – and video conferencing has also been part of our daily routine for years. Thanks to state-of-the-art 3D laser technology, our Homann Measurement division can also take highly precise 3D measurements of objects.
The use of Building Information Modelling – BIM – has played a key role in our digitalization. This modern planning method allows us to create a digital twin of the future building long before ground is broken. The detailed 3D model makes it easy for building owners to make the right decisions.
Would you like an appointment or more information?
Don't hesitate to contact us.
Digital architecture:
The future
starts today!
Digital architecture:
The future
starts today!
With our workshops,
we guide you
into the digital future.
With our workshops,
we guide you
into the digital future.
Using the BIM drawing program Autodesk Revit, we have already successfully implemented a wide range of construction projects since 2009. In his graduate studies at the University of Marburg, Emanuel Homann also immersed himself academically in the world of Building Information Modelling from 2014 to 2016 and shed light on the legal aspects of the topic. When it comes to legal questions regarding current BIM projects, Homann Architects and their clients benefit from close cooperation and interdisciplinary exchange with lawyer Cornelius Homann.
Due to his comprehensive know-how in theory and practice, Emanuel Homann is now one of the most sought-after experts in three-dimensional construction planning, is involved in associations and speaks on the topic at congresses and in seminars. He not only advises clients and planning partners on all issues related to BIM, but also trains other architects as well as political and business personalities. To this end Homann Architects also organizes regular workshops on the subject of BIM. Beyond all that, Emanuel Homann has also created the online platform BIMWORX and founded a start-up specifically for this purpose.
On BIMWORX, more than 2,000 people from the (digital) architecture industry are currently exchanging ideas virtually, making contacts, initiating contracts and projects. On BIMWORX, more than 2,000 people from the (digital) architecture industry are currently exchanging ideas virtually, making contacts, initiating contracts and projects.
– Testimonial CADSTUDIO
– Usecase-Story New office building, Brilon for Autodesk
– Success-Story Digitalization @ Homann Architekten for Autodesk
– Master thesis at the University of Marburg 2016
– BIM-AG within the framework of AKG – architects, hospital architecture and the healthcare industry (Architekten Krankenhausbau und Gesundheitswesen e.V.)
– Webinars 'BIM & Law' for the CAD Studio Cologne/ Hamburg.
– Lecture event 'BIM in practice and legal aspects' for the construction department of Asklepios Hamburg.
– Implementation of BIM at the company Oventrop, Brilon
– Implementation of BIM at the company Dallmer, Arnsberg
– Congress event 'BIM & Law' CAD-Studio Berlin
– Congress event 'BIM in practice' for Oventrop, Hamburg/Frankfurt/Munich
– Congress event 'BIM in practice' for Oventrop, Hamburg/Frankfurt/Munich
– Development of the online platform BIMworx to connect the (digital) architecture industry

FULLY DIGITAL –
CLOSE TO PEOPLE
The best technology is only as good as the people behind it. Unsurprisingly, our employees want to contribute their great technical know-how, their experience and their full creativity! In order to take full advantage of BIM, our planning partners must also be prepared to familiarize themselves with the new method and "live" the system. But one thing is clear: digital technology optimizes processes, but nothing beats a close, direct and personal relationship between the client and the service provider.
Building Information Modelling means a change in thinking for construction planners and lawyers. Architects have to learn a new tool and understand and practise a new way of working. Lawyers have to lay the contractual foundations and anticipate contractual risks and problems. However, we are sure that this is absolutely worthwhile: the future of construction is digital.
Impressions of
BIM projects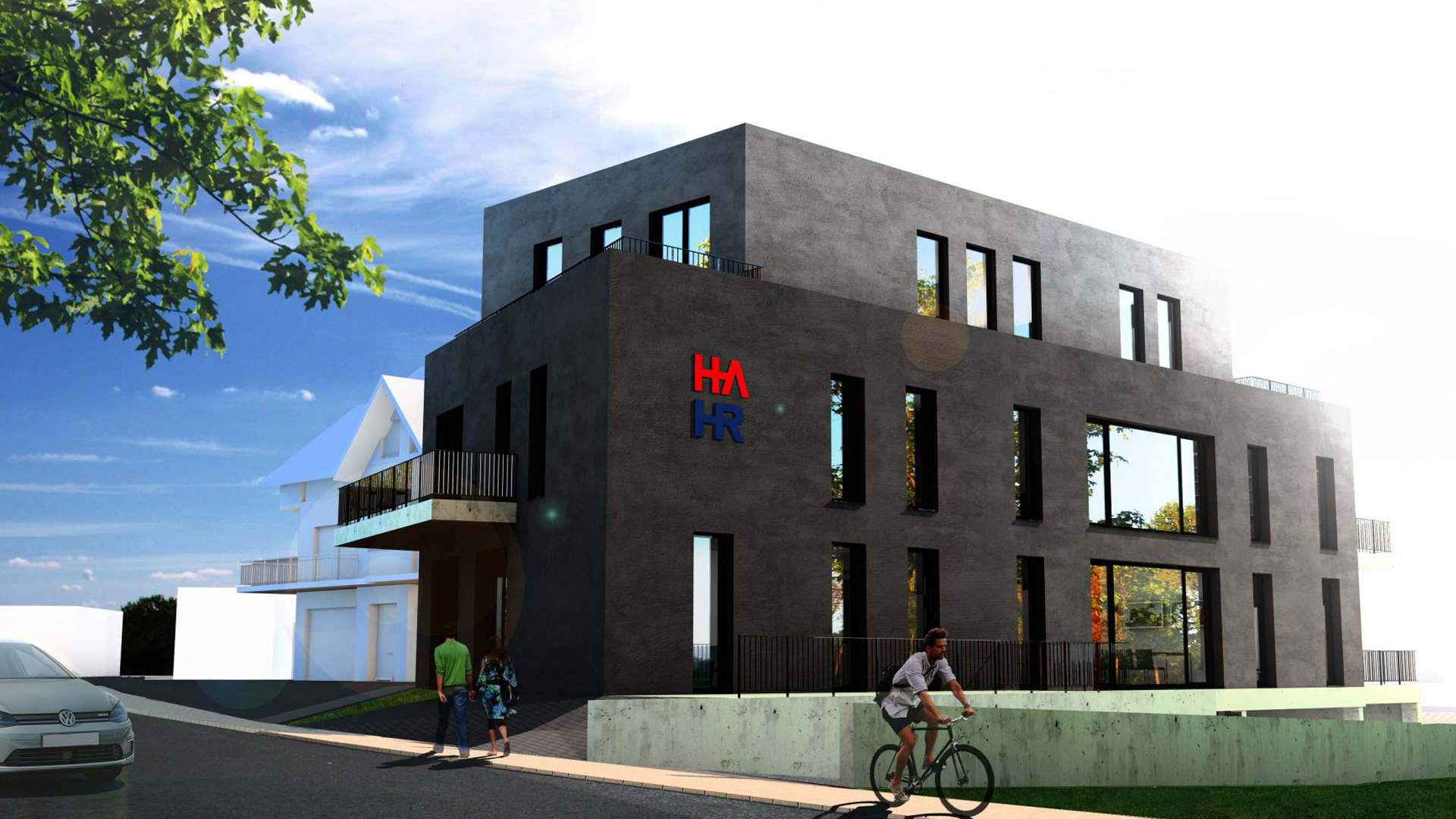 WHAT IS
BUILDING INFORMATION MODELING

?
The BIM Guide Germany defines Building Information Modelling as follows:
"Building Information Modelling (BIM) is a planning method in construction that involves the generation and management of digital virtual representations of the physical and functional properties of a structure. In this context, the building models represent a database of information around the structure to provide a reliable source for decision-making throughout its life cycle; from initial preliminary design to deconstruction."
What does that mean specifically? Whereas drawings made with an ink pen or conventional CAD programs can only show lines and strokes in two dimensions, our BIM drawing program enables us to create 3D designs that show every last detail. Our draftsmen can choose from numerous predefined or self-created components and qualities – for example, drywall or masonry with a thermal composite system and brick. Even finishes can be taken into account.
Once the 3D model of the planned building has been created, we make it available to our planning partners. They can enter all their relevant data via an interface, which goes far beyond the number of units and the properties of the elements. Instead of many confusing individual lists, all the required information is integrated into a single intelligent database. This contains information on electronics, heating, ventilation and many other areas that can be accessed by all planning partners at any time.
However, this is self-evident: The BIM system can only disclose the information that has been entered. If a user wants to create a VOB (Procurement and Contract Regulations for Construction Services) measurement separately for wall types, masonry and drywall in the various wall thicknesses, this is only possible if the various qualities on the corresponding walls have been defined or entered in advance.
GREATEST POSSIBLE PLANNING RELIABILITY

, SHORTENED CONSTRUCTION TIME
Every client has countless questions: What are the costs? When will each construction phase be completed? Which materials will be used? The BIM planning method allows us to provide very precise and realistic answers to all questions. This enables maximum planning reliability and helps to avoid wrong decisions – not only in the design phase, but over the entire life cycle of a building. An animation of the construction process, for example, can reveal possible weak points at an early stage, long before they lead to delays and problems on the construction site. In our experience, construction times can be reduced by a third on BIM projects.
The advantages of BIM at a glance:
– Detailed and precise cost determination
– Transparent representation of construction projects
– Animation of the construction process (understandable even for laypeople)
– Minimization of planning errors
– Shortening of planning and construction times
Project representation in 3D
Integration of specialist planning
Integration of specialist planning
The organization of a project that is to be realized with the BIM planning method means a consistent restructuring of the technical skills and hardware periphery for the respective planners, clients, operators and users. In principle, all parties involved must be prepared to use the new planning method. Handling the new tool is significantly more complex than a normal two-dimensional or three-dimensional drawing tool.
With the start of the project, numerous internal and external agreements on technical settings are required. This includes how the data is synchronized or how individual employees can work together internally on just one file or model. Even communication could be brought together via a cloud-based model and replace communication via e-mail. Text messages can be tied to building components. Alteration requests and coordination problems can thus be described in the model by the project team.
However, not all possibilities have to be exhausted. The aim is to clarify which processes and services are absolutely necessary and which should be carried out additionally. The BIM planning method can fundamentally be used in all phases of the project.
As the final point of planning and construction, the architect will always work on the task of documenting the planning, including qualities. A transfer of the data to the facility management, the owner, or user must be organized. This point is clearly one of the greatest advantages of the BIM planning method, since all data from the planning and the construction phases, and the data on the operation, can be compiled in the model. Within the intelligent model, the user always has all data on hand at the click of a button.
Here an excerpt from our presentations on digitalization/BIM:
17.05.2017 | CADSTUDIO KEYNOTES 2017 (Download as PDF)
22.11.2017 | FKT – FACHVEREINIGUNG KRANKENHAUSTECHNIK E.V. (Professional Association Hospital Technology) – BIM webinar (watch video)
18.10.2018 | Autodesk University – Moving the BIM World, Darmstadt (Download as PDF)
24.01.2019 | BIM Business Lunch 2019, Frankfurt am Main (Download as PDF)